The Medical & Biological Sciences Building
The Aimst University Medical & Biological Sciences Building previously known as the Medical Faculty Building, host Schools of several Disiplins such as the School of Medicine, School of Pharmacy, School of Nursing, School of Allied Health Studies, Department of Biotechnology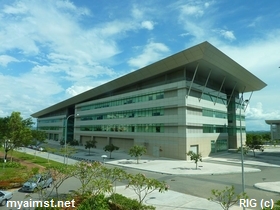 The Medical & Biological Sciences Building.

The Library is just at the left side of the building.

The sign board.

All the major building in view. From left to right. Administration building, Enginnering & IT building, Library and the medical & biological sciences building.

Side view of the building.
The Architecture
The state of the art medical & biological sciences building, like any other building in aimst, are fusion of traditional and modern essence , with focus on concept of natural lighting and energy saving.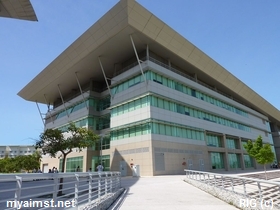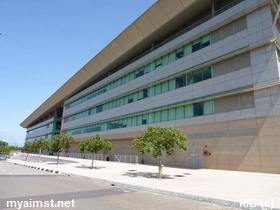 The elegant design of high slope roof for better cooling of building in tropical weather, and alternating huge glass window array for better natural lighting.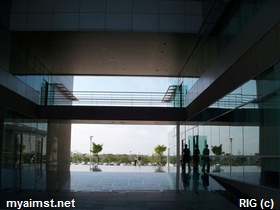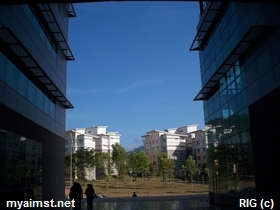 The space between two blocks enable adequate airflow flowing through.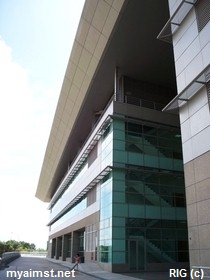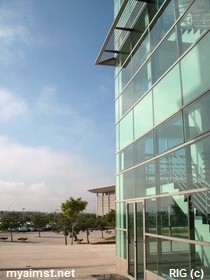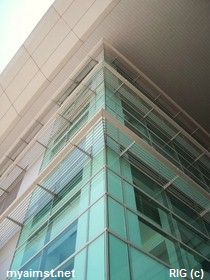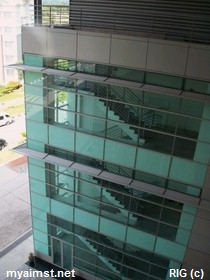 every angle is an art of its own.

A view from one of the blocks.

The bridge connects the two blocks.

The sunlight from the high windows above giving adequate natural lighting to the interior of the building.

The wooden stairs leads you from the ground floor to the top floor.
The Lecture Theater
There are several fully equiped lecture theater, lecture hall and seminar rooms available in the fully air-conditioned building. Available equipments including computers, LCD projectors, PA systems, comfortable chairs and white board. Aimst promote using Multimedia aided learning to enhance learning efficiency.

a view from behind of a lecture theater.

a view from front of a lecture theater.
The Clinical Skills Center (CSC)
The Clinical Skills Center is a place for pre clinical training for the medical students. It is fully equiped with simulation room for various clinical senario from emergency management to simple diagnostic procedure. Having fully support of Medical Education and Simulation from METI , students are expose to possible clinical senarios by simulation so that they will have better understanding during clinical postings.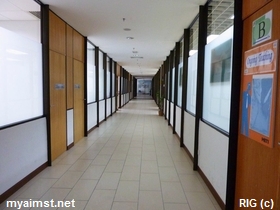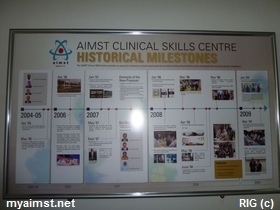 Left: Various simulation rooms available along the corridor. Right: The Historical milestones of Aimst Clinical Skills Center.

Spacious ward like settings.

Medical Students are free to use the facility in the skills center

Practice your skills with your fellow classmates is always a good idea.

Computers and huge LCD screen are available for students to view clinical photos and video clips.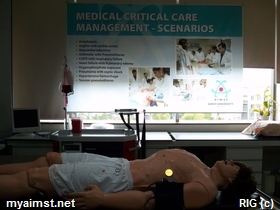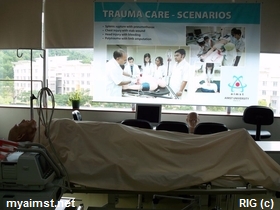 Mannequin and dummies are not cheap, but they are for the benefit of the students. Thanks to METI.

View of One of the clinical senario simulation room.
The Multi-Disiplinary Lab (MDL)
The Multi-Disiplinary Laboratory is fully equiped with microscope, autoclave oven, fume cabinet ...... everything that a decent university laboratory should have.

The spacious Laboratory.

This is a simple physiology lab.(not part of MDL)
The Anatomy Dissection Hall (ADH)
To understand human, we need human. During the pre clinical years, Human anatomy is a very important subject. Dissecting cadavers is the only way to "see and touch for yourself" how a interior of a human look like in real life.

The Dissection Hall.

Another view of the Dissection hall.

Outside the Hall there is cabinet for putting personal belongings.