The Lotus Pond a.k.a the Lotus lake park.
Aimst University Semeling campus is build on a hill slope. With high hills behind the campus and huge man-made lake in front of the campus, it creates a nice landscape, with a good feng-shui perspective. As the name sugest, the man-made lake covers by mainly pink lotus flowers. There are also other members of water lilies of the around the pond. A The lotus pond creates a very relaxing view during the day when dozens of pink Lotus flowers opens proudly under the sun. It also behaves as a natural habitat for frogs and fishes.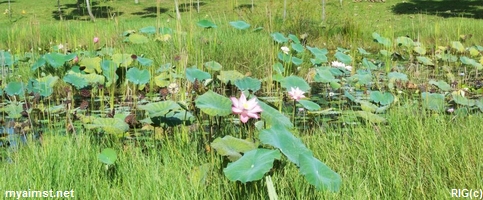 The pink Lotus.

The pink Lotus flowers across the lake.

The pond, the aimst administration building and the mountains.

The lotus plant spread across the lake.

At times it goes over-populated.

thin film of lotus plant on the lake.
The Surroundings
Other than the lotus pond, the surroundings of the park is also full of greeneries. A evening walk along the jogging path in the park can never be so relaxing when the evening breeze blew across the lake, towards the mountain. trees, flowers, Birds, insects, frogs and fishes, a perfect natural ecosystem to admire.

The jogging path around the lake.

The main road outside campus can be seen beyond the trees.

A spacious park, perfect for a picnic.

Trees of different types around the lake.